The Best Web Design Agency
In the digital age, a business' online presence is the key to its success. At Survivor Dijital, we create unique and impressive websites to make your brand stand out in the digital world.
Our customers tell us that we are the best, not us. We design websites with 100% customer satisfaction.
Search Engine Optimization: Reach more potential customers by getting ahead of your competitors.
Mobile Optimization: Increase visitor satisfaction by providing a perfect experience on all devices.
Fast and Modern Design: Impress your visitors with a fast and modern website.
Contact us now for a more effective, user-friendly and successful website!
OUR FEATURES THAT MAKE A DIFFERENCE IN WEB DESIGN
SEO COMPATIBLE WEB DESIGN
We make your website stand out in search engines with an SEO compatible web design! The aesthetics and functionality of your website are important, but its availability is also critical. At Survivor Dijital, we take web design and SEO as a whole, so your website will be both beautiful and findable.

USER EXPERIENCE
At Survivor Dijital, we put the user experience at the forefront of all the websites we design and ensure that your visitors turn into your customers. All the websites we have designed attract attention with their user-friendly interfaces and impressive visuals.

THE SYMPHONY OF TECHNOLOGY AND CREATIVITY
We create creative websites that tell the story of your brand and are supported by the latest technologies. Your website is the face of your brand in the digital world, and we ensure that this face is represented in the best possible way.

What Do We Offer In Our Web Design and Development Process?
Our expert team knows that a perfect web design is not just about aesthetics. By providing an impressive and functional experience for your customers, we make your brand stand out digitally. You are in the right place for your online success!
Custom Web Design
Completely unique to brand
Compatible with all devices
Already adjusted basic SEO settings
Visually interesting
User and conversion oriented
Wordpress Web Design
Flexible and customizable
Easy management panel
SEO compatible structure
Compatible with all devices
User friendly and conversion oriented
E-Commerce Websites
Customizable design
Secure payment integrations
Compatible with all devices
SEO friendly structure
Effective product management
Fast and reliable infrastructure
Check Out Some of Our Web References
We have completed many successful projects with our professional web design and development services. Below you can find some of our references belonging to different sectors. These projects reflect our quality, expertise and customer-oriented approach. Each of them has been carefully prepared in accordance with specific needs and goals.
Mühür Veri Tabanı - YEK
Avonni Lighting
Turkish Ali Bazaar
Payporter
Kuikpara
Eğitimpedia
Özgür Düşler Anaokulu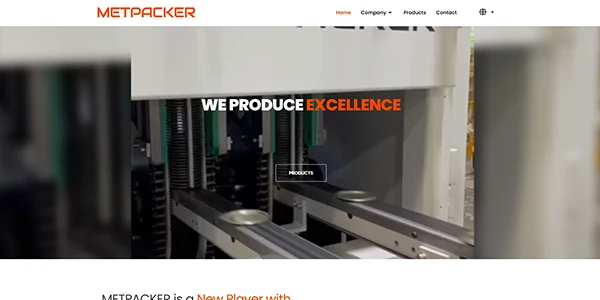 Metpacker
Adres Patent
Contact Us!
Let's Determine the Best Strategy For Your Website Together.
In our free 20-minute meeting, let's plan projects together that will maximize the potential of your website.
Frequently asked Questions
1. What Is Web Desıgn?
Web design is the process of creating the visual design and user experience of a website. This includes everything from the color scheme of the site to its layout, graphics and overall aesthetics.

2. What Is Responsıve Web DesIgn
Responsive web design is an approach that allows a website to be displayed smoothly on all devices (desktop, tablet, mobile).

3. What ıs the Dıffırence Between Web Desıgn and Web Development
While web design deals with the visual and user experience aspects of a website, web development involves the functionality of the site and the coding behind it.

4. What Is SEO FrIendly Web DesIgn?
SEO friendly web design is a design optimized to ensure that a website is easily found and indexed Decently by search engines.

5. What Is the Cost of Web DesIgn DetermIned By?
The cost of web design may vary depending on the complexity of the project, the number of pages, special features and other factors.